About us
Welcome and thank you for visiting the Moo Sool Academy web site.  The Moo Sool Academy is a modern Korean martial arts school focused on the developing the all round martial artist.
The words "Moo Sool" when literally translated mean "Martial Technique(s)" and therefore we are the Martial Techniques Academy providing the very best instruction in the Korean Martial Arts. The martial art taught at the Moo Sool Academy is Yusool. Yusool when translated means "soft techniques" and is a traditional form of Korean Jujutsu. We are committed to providing a safety conscious, family orientated environment, where members enjoy training and feel a sense of belonging. Through training, students build self confidence, gain the necessary skills to defend themselves and improve their overall fitness.
Our teaching staff have decades of experience are fully certified, insured and CRB checked foryour peace of mind. Our Chief Instructor Master Nick Tsavalos is also a fully qualified Physical Education Teacher (B.Ed. Hons) and a Personal Fitness Trainer with over two decades in the fitness industry and nearly three decades in the martial arts.
Instructor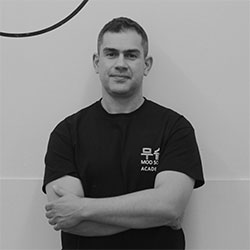 Master Nick Tsavalos:
Head Instructor
MARTIAL ARTS INSTRUCTOR & PERSONAL TRAINER Master Nick Tsavalos has over 30 years of martial arts experience along with over two decades working in the fitness industry and nearly two decades as a Freelance Personal Trainer working in the Central London area (UK).
Martial Arts History:
6th Dan Master Yusool 2012 under Grandmaster Bouk Soo Joung.
4th Dan Master Hapkido 2006 under Grand Master Cha Sok Park (1st Dan 1997 under Grand Master Cha Sok Park)
3rd Dan Taekwondo 1997 Certified by Father of Taekwondo Won Kuk Lee and Grand Master Cha Sok Park (1st Dan 1992 Under Grand Master Hock Lye Ooi)